En artikel i The Strait Times som ges ut i Singapore.
https://www.straitstimes.com/asia/se-asia/chinese-hunger-for-durians-blamed-for-deforestation-in-malaysia
Durian är en tropisk frukt som är populär i vissa delar av Sydostasien.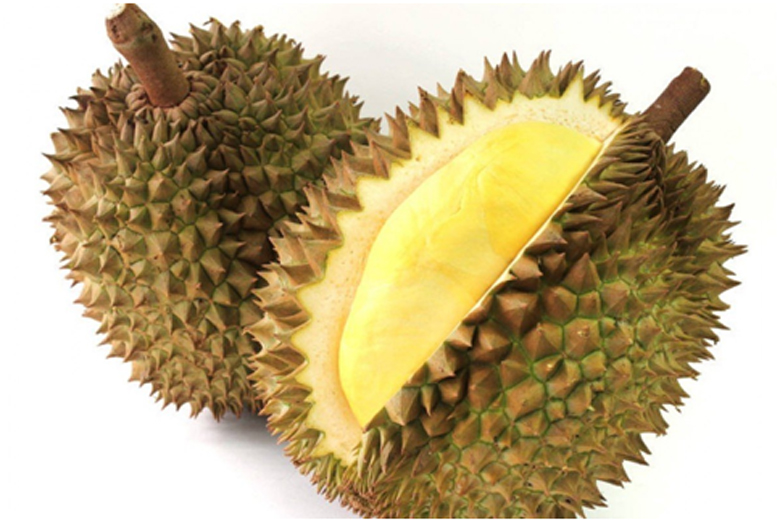 Den sägs lukta hemskt men smaka himmelskt. Hur vet man då att den är mogen? Jo man sticker in en liten pinne i frukten vilken man luktar på. Har smakat en sådan frukt en gång och jag tyckte inte att den var så illaluktande som jag hört och läst och den var inte så himmelskt god som jag hört och läst. Var då min frukt tillräckligt mogen? Tror det, för en dam i Zamboanga i södra Filippinerna som jag hyrde ett rum hos en gång på 1990-talet gjorde testet och förklarade för mig att frukten var mogen att äta.
Det finns många historier om denna frukt och dess lukt. Det är dessutom strängt förbjudet att ha med sig frukten ombord på flygplan i den delen av världen.
Men det är klart att när den ruttnar luktar den mycket värre.
Exempel 1. Utrymning av en universitetsbyggnad. The pungent smell of the rotten durian fruit at an Australian university library has been mistaken for a gas leak, prompting an evacuation of the building.Specialist crews wearing masks searched the Royal Melbourne Institute of Technology university campus library on Saturday, but all they found was rotting durian in a cupboard. About 600 staff and students had cleared the building.
https://www.scmp.com/news/asia/australasia/article/2143883/panic-pungent-durian-smell-mistaken-gas-leak-australian
Exempel 2. Passagerarvägran I Indonesien. A group of passengers on a Sriwijaya Air flight almost came to blows with the crew over the foul and smelly presence of durian fruit, which temporarily grounded the plane, according to multiple reports. CNN reports that a Sriwijaya Air flight, headed from Bengkulu, a province in Sumatra, to Jakarta, Indonesia had to be grounded after passengers refused to board the plane that was carrying two tons of durian fruit. Airline removed the fruit from the plane, which departed an hour later than scheduled.
Denna frukt har blivit alltmer populär i Kina och nu ska man utöka odlingen av dessa frukter i Malaysia.
Även på annat håll driver Kinas stora aptit efter råvaror nedhuggning av regnskog.
Det talades mycket om bränder i Amazonas tidigare i år men alla dessa var inte naturliga pga torkan i Amazonas, klimatförändringar som en del sa. Det var människor som startade många bränder. Det har varit stora bränder både i Brasilien och Indonesien enligt en artikel.
https://earther.gizmodo.com/how-china-is-helping-drive-deforestation-in-brazil-and-1839508097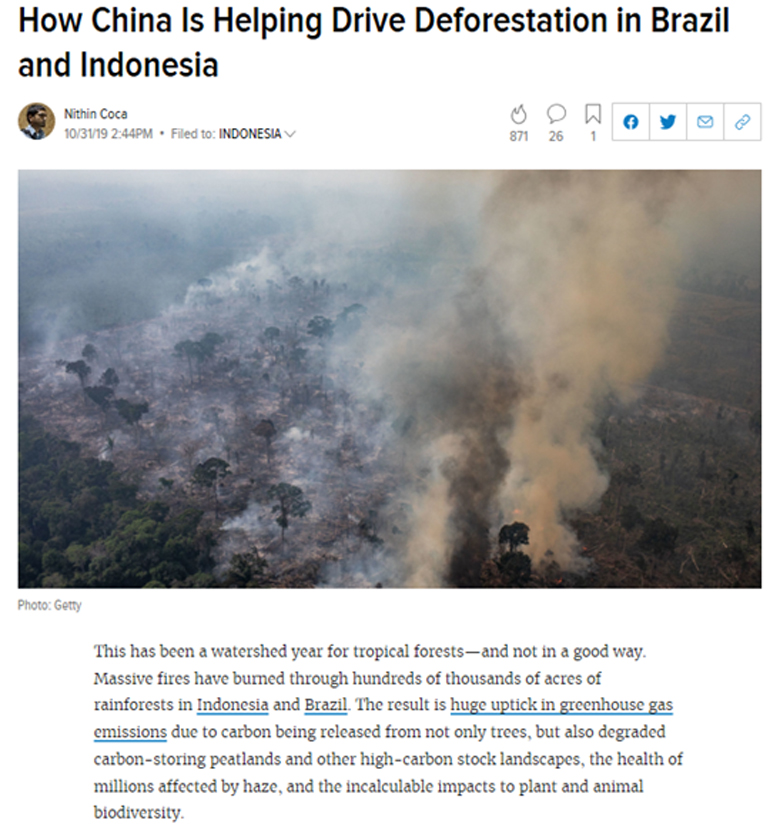 Kinas roll i nedhuggningen av regnskogar var det tyst om i samband med nyhetsrapporteringen tidigare i år. Artikeln fortsätter:
Yet, quite possibly the biggest culprit is getting little attention. Data shows that since the dawn of the 21st century, China is responsible for the majority of growth in demand for forest-clearing products including palm oil soy, and beef. Furthermore, China is the world's second largest economy, and the largest trading partner by revenue with Indonesia, Malaysia and Brazil, the three main exporters of these tropical commodities. This means that stopping fires and deforestation is nearly impossible without action from China and Chinese companies………It's not just China, either. India, Pakistan, and Bangladesh are growing their imports of Southeast Asian palm oil, while Thailand and Egypt are becoming major importers of South American soy. In fact, nearly every tropical commodity connected to deforestation has a growing market in Asia.
Kineser och andra asiater får det allt bättre och därför växer efterfrågan på produkter odlade i tropikområden som soya, palmolja och nu även durian.