Sista delen av slutsatsen: "By comparing the photogrammetric estimates of Storglaciären between 1910 and 2015, the analysis shows a loss of 97.01±4.96×109 kg w.e., or about 28% of its 1910 mass. From 1910 to 1946, the constrained series suggests a loss of 10.13±1.32 m w.e. or 42.98×109 kg. The resultant mass series also suggests a state close to equilibrium between 1880 and the 1910s, although this period is less reliable as it cannot be constrained with photogrammetric estimates. Subsequently, a considerable period of melt occurred until around the 1970s when the mass variation stabilized over the 1980s and 1990s. The strong melt period of 1920–1970 constitutes 48% of the years, but makes up 76% of the mass loss seen in the period of 1910–2015. This melt period is likely a result of both increases in temperature, and of unfavourable basal topography conditions which facilitated retreat. The melt period was followed by a decrease in melt and even periods of positive mass balance, but a negative trend has been continuing since the 2000s, with no other apparent explanation than increasing temperature."
Vad vi kan läsa om Storglaciären i Kebnekaisemassivet idag.
Storglaciären På Stockholms universitets hemsida.
https://bolin.su.se/data/svenskaglaciarer/glacier.php?g=69
"Storglaciären är den mest undersökta glaciären i välden och dess massbalansserie som sträcker sig obruten sedan 1945 är längst i världen. Glaciären är fotografiskt dokumenterad sedan 1886 och dess frontläge mättes in för första gången 1897. Glaciären täcker en yta av 3,1 km2 och den har ett maxdjup på ca 250 meter och ett medeldjup på ca 95 meter. Detaljerade kartor finns från åren 1949–51, 1959, 1969, 1980 och 1990. Digitala terrängmodeller finns från 1999 och 2008. Forskningsarbetena på Storglaciären sker från den intilliggande Tarfalastationen som är Stockholms universitets fältstation. Sedan 1945 har glaciären blivit i genomsnitt 17 meter tunnare och den totala massförlusten sedan 1910 är ca 150 miljoner kubikmeter, vilket motsvarar ca 30 % av dess forna massa."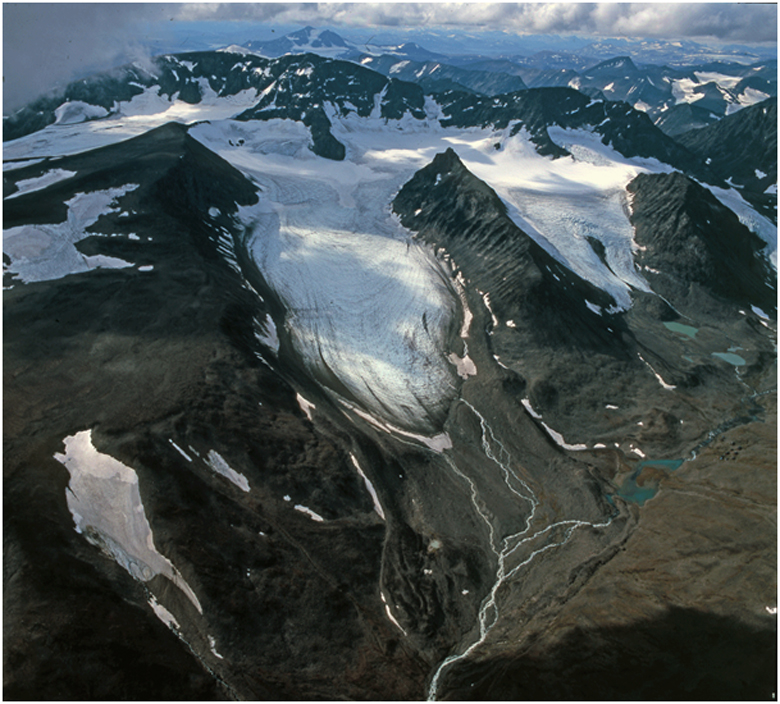 Denna rekonstruktion av Storglaciärens avsmältning bekräftar vad Hans W:son Ahlman skrev på 30-talet om smältande glaciärer, närmare bestämt år 1938 i SvD.
Se http://lagmansnatursida.se/dbarkiv/2019/vecka13/db19mar29.htm och http://lagmansnatursida.se/dbarkiv/2019/vecka13/db19mar28.htm