Hela Amazonas ska inte försvinna i nästa århundrade men stora delar ska minska pga mindre regn. Denna artikel baserar sig på enstudie från Dr Delphine Clara Zemp, of the Potsdam Institute for Climate Impact Research, Germany, who was one of the researchers behind the new study, said: "The Amazon rainforest is one of the tipping elements in the Earth system.
Det är samma välkände/ökända institut som lanserade idén om att golfströmmen skulle stanna av och vi skulle får ett arktiskt klimat igen.
Även senaste rapporten från IPCC tar upp detta. "Global warming of 3°C–4°C may also, independent of deforestation, represent a tipping point that results in a significant dieback of the Amazon forest, with a key forcing mechanism being stronger El Niño envents bringing more frequent droughts to the region (Nobre et al., 2016). Increased fire frequencies under global warming may interact with and accelerate deforestation, particularly during periods of El Niño induced droughts (Lenton et al., 2008; Nobre et al., 2016). Global warming of 3°C is projected to reduce the extent of tropical rainforest in Central America, with biomass productivity being reduced by more than 50%, and a large replacement of rainforest by savanna and grassland " s 151 kap 3.
Men här tar de upp temperaturen till 3 – 4 grader som risktemperatur medan de för övrigt talar om 1,5 – 2 grader som risktemperatur i denna rapport.
Har inte riktigt förstått detta. Under den senaste istiden med mindre luftfuktighet var Amazonas helt annorlunda och betydligt mindre, uppdelad på tre mindre områden och för övrigt var det snårskog och savann.
Men nu med mer värme och mer avdunstning ska det bli torrare liksom under istidens maximum.
Hur har det varit tidigare med megatorkor på det amerikanska fastlandet sedan den senaste istiden?
I en artikel med rubriken läser vi https://www.ldeo.columbia.edu/~jsmerdon/papers/2016_wirescc_cooketal.pdf
"Given the often dramatic consequences of even single-year drought events, and the ubiquity of multidecadal megadroughts in the paleoclimate record, it is perhaps fortuitous that North America has not experienced a megadrought in the last several hundred years. With emergingand projectedtrends toward increased desiccation across much of North America, improving our understanding of the causes of megadroughts is imperative in order to better understand the likelihood of their recurrence and impact in the future.
På diagrammet ser du när det varit megatorkor, mindre blått = mindre fuktighet
PDSI= Palmer Drought Severity Index (PDSI).
Trots detta säger andra forskare: https://www.whoi.edu/news-release/California-drought
Det var alltså 2012 – 2014 som det var en torka, ingen megatorka alltså. De påstår att det var den värsta på länge. Men säger andra forskare, i slutet av detta århundrade ska megatorkorna återkomma på det amerikanska fastlandet.
https://www.nature.com/news/future-us-megadroughts-set-to-be-the-worst-in-1-000-years-1.16916
Enl Wikipedia har det varit fler fleråriga torkor i Kalifornien under senaste 100+åren
Since 1900, the following dry years have had significantly below-average precipitation.
<![if !supportLists]> · <![endif]> 1841
<![if !supportLists]> · <![endif]> 1863-64
<![if !supportLists]> · <![endif]> 1917–21
<![if !supportLists]> · <![endif]> 1922–26
<![if !supportLists]> · <![endif]> 1928–37 kallas Dust Bowl, svår men ändå ingen megatorka
<![if !supportLists]> · <![endif]> 1943–51
<![if !supportLists]> · <![endif]> 1959–62
<![if !supportLists]> · <![endif]> 1976–77
<![if !supportLists]> · <![endif]> 1987–92
<![if !supportLists]> · <![endif]> 2006–10
<![if !supportLists]> · <![endif]> 2012–17
Det finns många förutsägelser om detta baserat på klimatmodeller.
Hur är det då med övriga Amerika?
Mexico hade megatorka på 1500-talet förutom megatorkan som gav Mayariket en knäck år 800-1000.
Innan inkariket var det en megatorka på flera hundra år.
Det har alltså varit ett flertal megatorkor på det amerikanska fastlandet under tidigare århundraden.
Frågan är om det har varit någon megatorka som har varit svår i Amazonas?
Hittar inte någon megatorka i detta stora område sedan den senaste istiden.
Varför inte detta?
Svaret har nyligen kommit genom en forskare från Nederländerna
https://phys.org/news/2018-05-amazon-forests-stabilise-drought.html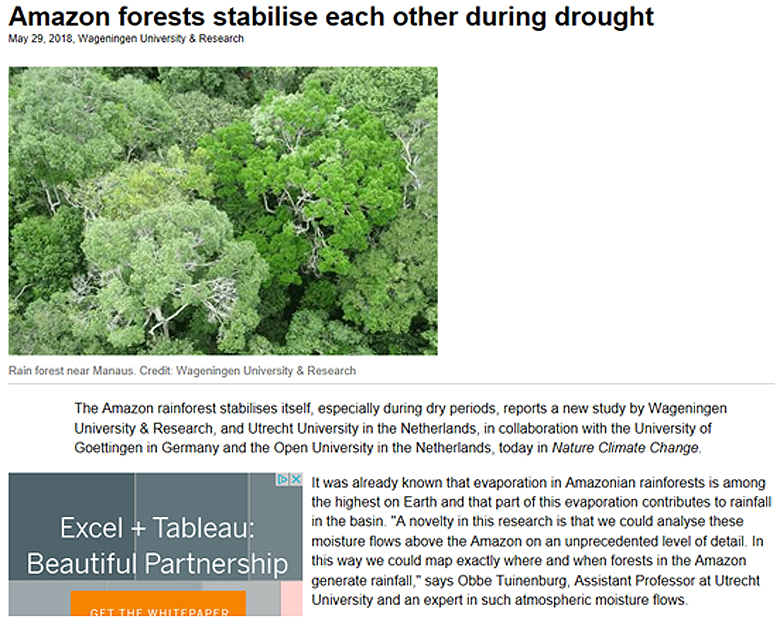 https://phys.org/news/2018-05-tall-older-amazonian-forests-resistant.html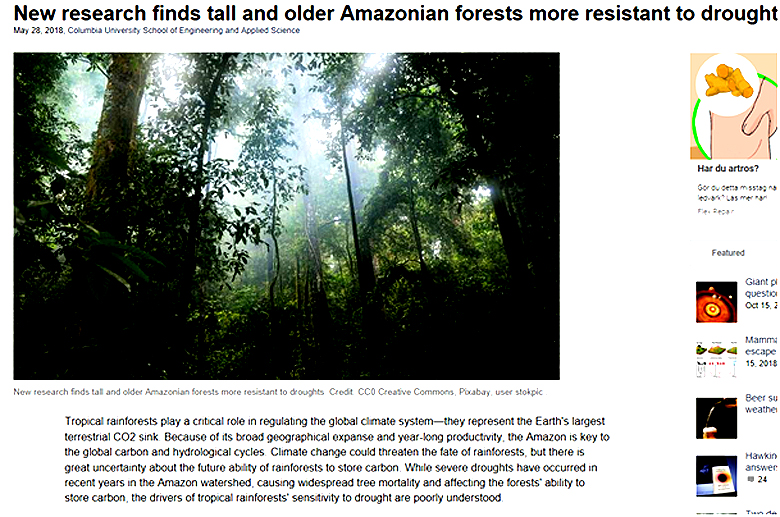 Amazonas är alltså extra motståndskraftigt mot torkor.
Denne forskare skriver att: This analysis revealed a number of important results, such as the finding that the contribution of the Amazon forest to rainfall increases when conditions become drier. "During dry spells the trees continue to have access to deep groundwater, thus maintaining evaporation," clarifies Stefan Dekker, Associate Professor at Utrecht University and Professor at the Open University, the Netherlands.

Read more at:
https://phys.org/news/2018-05-amazon-forests-stabilise-drought.html#jCp
Alltså träden i Amazonas har rötter som når ned till grundvattnet på djupare nivåer vilket gör att de kan överleva torkor och fortsätta med att avdunsta vatten från löven vilket bidrar till regnen.
Ska vi då ta IPCC:s modeller på allvar? Tror inte det.