https://www.nature.com/articles/s41467-017-01884-8
Så klart mer arktisk is under lilla istiden. Än är vi inte tillbaka på den låga nivån som var under medeltiden eller för den skull under romartiden. Detta mäts i marina sediment och kallas IP25. Molekyler från plankton som visar om det var öppet hav eller isbelagt. Med öppet hav blir det mer planktonrester i sedimentet, men är det kallare och mer is blir det mer av en speciell sort och det är denna som man mäter. Mätplatsen är norr om Island.
Tittar vi längre tillbaka så tycks den arktiska isvariationen ha nått sin höjdpunkt under den lilla istiden. Minskningen av sommaris som vi sett sedan 1980-talet är då inget märkvärdigt.
Nedgången från den lilla istidens maximum tills idag är då inte alarmerande.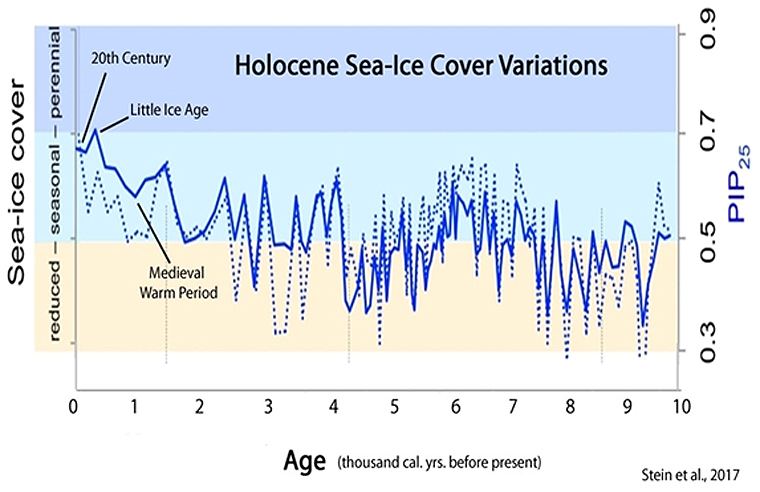 Här kan vi se variationen ända tillbaka till den stora istiden. Samma biomarkör som har mätts i Tjuktjerhavet norr om Berings Sund och Östra Sibiriska Havet. Större delen av tiden mellan den stora och lilla istiden har det varit märkbart mindre med is.
http://onlinelibrary.wiley.com/doi/10.1002/jqs.2929/abstract
ABSTRACT
In this study, we present new detailed biomarker-based sea ice records from two sediment cores recovered in the Chukchi Sea and the East Siberian Sea. These new biomarker data may provide new insights on processes controlling recent and past sea ice changes. The biomarker proxy records show (i) minimum sea ice extent during the Early Holocene, (ii) a prominent Mid-Holocene short-term high-amplitude variability in sea ice, primary production and Pacific-Water inflow, and (iii) significantly increased sea ice extent during the last ca. 4.5k cal a BP. This Late Holocene trend in sea ice change in the Chukchi and East Siberian Seas seems to be contemporaneous with similar changes in sea ice extent recorded from other Arctic marginal seas. The main factors controlling the millennial variability in sea ice (and surface-water productivity) are probably changes in surface water and heat flow from the Pacific into the Arctic Ocean as well as the long-term decrease in summer insolation. The short-term centennial variability observed in the high-resolution Middle Holocene record is probably related to solar forcing. Our new data on Holocene sea ice variability may contribute to synoptic reconstructions of regional to global Holocene climate change based on terrestrial and marine archives.